Hares
The Hares are a collection of bescrooged beasts, each with a character of its own.
As always they are individually hand crafted by me, so no two are alike.
'Tordu' collection of pieces
My collection "TORDU" are a series of intertwining abstract pieces with a minimal palette and a specific focus on form.
With this new collection I have recognised the healing properties of nature, it's power to regenerate and thrive when left to its own devices. "TORDU" is a mix of emotions and regrowth.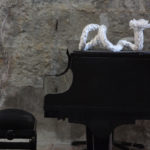 Buy directly from the Gallery
Currently available from Schmid McDonagh in London.
As always, I am so happy to see my work hanging amongst SchmidMcDonagh's beautifully curated collection.
The mirror work was a wander down a new avenue. It was not totally off piste, as the style is identifiably mine. I worked with a combination of familiar themes, from corals and leaves to animals, and in doing so have created something new and exciting though still recognisable as my work.
Each element is a one off and created as always by hand. They are then brought together in a carefully arranged grouping as a mirror frame.
Round Snail Mirror
Aprox. 400mm diameter – Porcelain
Detail – Snail Mirror
Rectangle Coral Mirror
Aprox. 330mm x 260mm – Porcelain
Box hedge Oval Mirror
Aprox. Height 700mm – Porcelain
Circular Coral Mirror
Aprox. 400mm diameter – Porcelain
Barnacle Mirror
Aprox. 330 x 260 mm – Porcelain
Here's a further selection of my work
Please do get in touch if you would like to purchase any of the work here or want a quote for an individual commission.